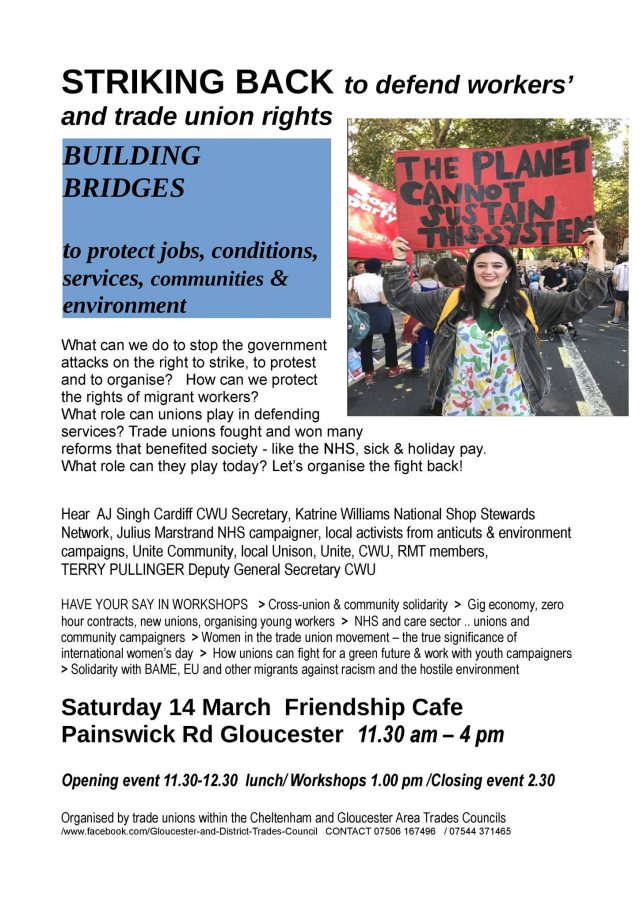 Striking Back, Building Bridges! – Saturday 14th March at the Friendship Cafe, Painswick Road, Gloucester
Trade unions in Cheltenham, Gloucester and surrounding areas have organised an event to address the attacks we face, both in our workplaces and the communities we live in.
STRIKING BACK to defend workers` and trade union rights
BUILDING BRIDGES to protect jobs, conditions, services, communities and the environment
What can we do to stop the government attacks on the right to strike, to protest and to organise? How can we protect the rights of migrant workers? What role can unions play in defending services?
Trade unions fought and won many reforms that benefited society – like the NHS, sick pay and holiday pay. What role can they play today?
Hear Julius Marstrand, NHS campaigner – AJ Singh, Cardiff CWU Secretary – Katrine Williams, National Shop Stewards Network – Local trade union and anti-cuts activists, NHS & environment campaigns, Terry Pullinger, Deputy General Secretary, CWU.
Workshops and topics
– Cross-union and community solidarity / Gig economy, zero-hour contracts, new unions, organising young workers
– NHS and Care Sector….how can unions and community campaigners work together? Challenges of workplace bullying, work overload. Can the NHS cope with covid-19
– Women in the trade union movement and the workplace – the significance of international women`s day
– How unions can fight for a green future & work with youth campaigners
– Standing up for BAME, EU and other migrants against racism and the hostile environment
Saturday 14th March at the Friendship Cafe, Painswick Road, Gloucester
Opening event 11:30am – 12:30pm
Lunch 12:30 – 1:00pm
Workshops 1:00pm – 2:30pm
Closing event 2:30pm
ALL WELCOME! Organised by Cheltenham & Gloucester Districts Trades Councils
CONTACT 07553 189 084
FACEBOOK Gloucester and District Trades Council